When paired with a beautiful sapphire, diamonds truly are a girl's best friend.
On May 23, fans of both can attend a Phillips auction in Hong Kong and place bids on this one-of-a-kind necklace. The masterpiece, which has been in a private collection since its 2004 creation, will be auctioned off for the first time. Its main draw is a cushion-shaped, unheated sapphire that weighs in at 118.5 carats, making it one of the largest sapphires to be offered at auction in the last three decades.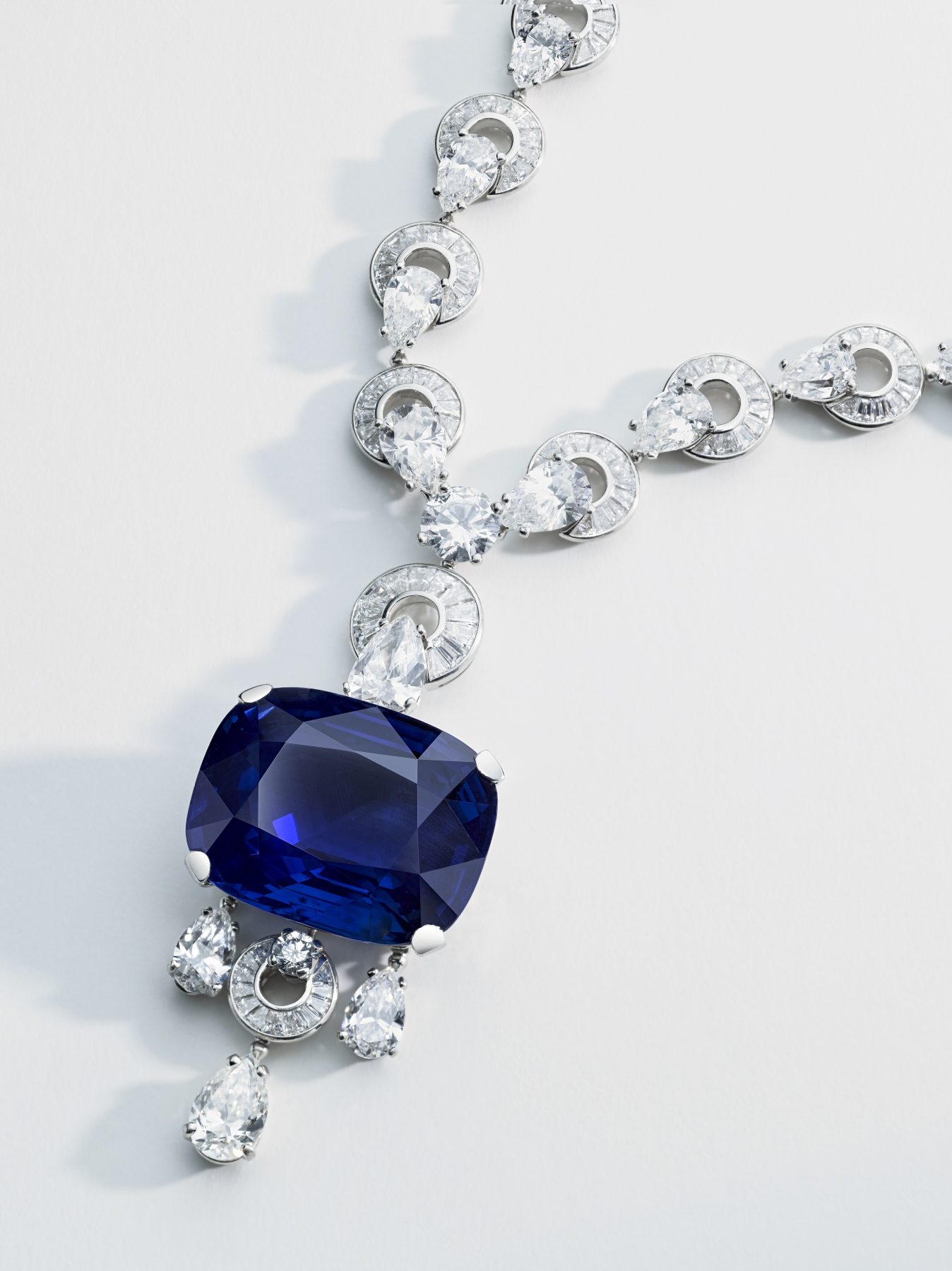 The large sapphire comes from gem-rich Sri Lanka and is accompanied by SSEF and Gübelin gemmological reports and a letter describing the sapphire's rarity as an appendix. A score of 98 out of 100 on the Gübelin scale represents a "exceptional" evaluation. The Gübelin Gem Lab designated the stone a "royal blue," a color grade rarely seen in large, unheated blue sapphires, because of the stone's uniform saturation. The diamond setting, meanwhile, is reminiscent of 1930s and 1950s Bulgari creations.
Instead of round, brilliant-cut diamonds, the necklace's links are tapered baguette diamonds. Pear-shaped diamonds at strategic points between the links keep this seemingly heavy piece from feeling too heavy. Its chainlike structure is reminiscent of Bulgari's modulo jewelry, in which individual components are made separately and then assembled into finished pieces. Phillips' one-of-a-kind piece is expected to sell for between $3.2 million and $4.5 million at the Hong Kong Jewels & Jadeite Sale at the company's new Asian headquarters.
Benoît Repellin, Phillips' global head of jewelry, said in a statement, "Phillips is truly honored to bring this exceptional and impressive sapphire and diamond necklace by Bulgari to auction." The [sapphire] stone, which is one-of-a-kind in terms of its size, color, and country of origin, perfectly exemplifies the clarity and brilliance sought by Bulgari in all of its High Jewelry designs. The extraordinary beauty of the gem is highlighted by the timeless elegance of the setting, making this jewel a must-have for any Bulgari collector.
Do you want to take a look at the enormous sapphire? From now until March 31st, you can see the necklace on display at Phillips in Hong Kong's West Kowloon Cultural District. Beginning on April 6 and continuing through May 15, it will travel the world before returning to Hong Kong on May 23 to head the auction house's Jewels & Jadeite Sale.